Ten Questions to Ask in an Employee Referral Form
Here are 10 questions you should consider adding to your employee referral form. Free template included.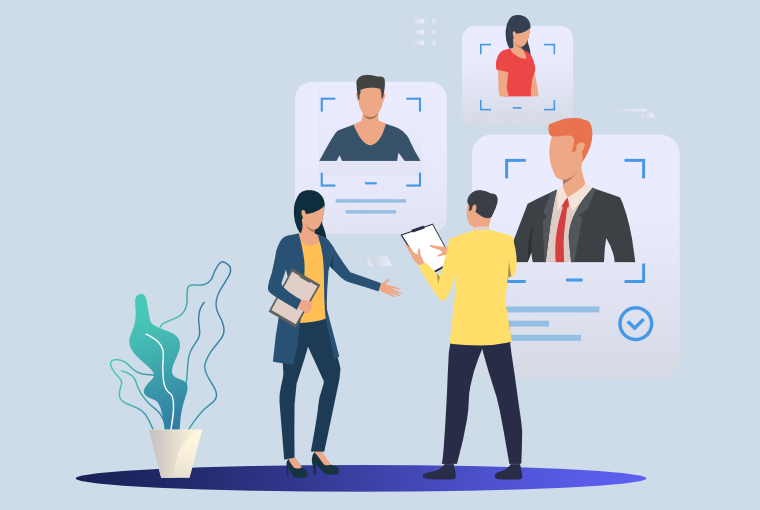 As the company director, if you're not already offering an employee referral program, you should strongly consider it an effective way to fill positions and improve employee engagement.
However, the best referral programs in the world won't succeed if you don't collect any data from potential employees that come through the program, so it's essential to ask the right questions.
Here are ten questions you should consider adding to your employee referral form to maximize the effectiveness of this approach to hiring.
Job Title
A simple dropdown field to inquire about the job title they are interested.
Which of your current colleagues do you believe will be the best fit?
Everyone knows someone—or better yet, several someones—who'd make an excellent fit for your company. But who are those people? List out names and titles of colleagues you think would be interested, and ask your referral base to weigh in on who they believe would be best.
This will help you confirm that there's a good fit before moving forward with reference checks. (Also, keep their responses anonymous if they feel uncomfortable sharing names.)
If there's a long list of names, prioritize top contenders and follow up accordingly. Asking employees to do some legwork in evaluating candidates is valuable; it shows you value their opinions.
Why would you suggest this person for my job?
The best fit will be a happy one! If you're asking your employee to make a referral, be sure they understand why and what they are expected to do.
Ideally, they would know and like that person already. Take their thoughts into consideration and someone with similar skills but different interests or strengths.
At least one of your employees should be interested in referring others, so don't forget them! Often it takes a few attempts before someone feels comfortable enough to tell you about an interested friend. Be sure you ask each employee at least once or twice a year.
Why are you recommending them?
Employees who can foster thriving company culture and attract top talent will be successful. It would be best if you interviewed candidates with both of these qualities.
To find out if they meet your hiring needs, ask questions like:
Why do you think they would be a good fit for our team?
What can they bring to our company?
You should also make sure that your referral form covers two fundamental questions:
Why are you leaving your current position? And What do you hope to gain from a new job?
If your potential employee answers these questions well, it's more likely that they will have a positive attitude toward their profession, which will lead to success on your end.
Is there anything I should know about this candidate before interviewing them?
This is an excellent question for uncovering any unknown biases or opinions that might be clouding your judgment. Sometimes we think we know a lot about people and their skillsets, but you often get some surprising answers when you ask them directly.
Also, make sure you're framing things in terms of what they can do (not what they can't).
People want to feel good about themselves, and while they may not always tell you no when asked if they can do something - like work long hours or travel frequently - instead try asking if they would prefer something else, like working shorter hours or being based locally.
Those questions will show you how adaptable employees are, which is invaluable information to build a team.
What makes them a strong candidate for this position?
This question lets you see how well your employees know their co-workers and gives you a chance to learn what skills/attribute your candidates possess that others don't.
And it gives you some insight into their work ethic, ethics, and values. If their references all say they are punctual and dependable, there's no reason why they wouldn't be a good fit for your company.
Be sure to ask questions based on what matters most; if social media presence is a non-negotiable requirement of your position, ask them how they use it - Facebook, LinkedIn, or Twitter?
How long have they been at your company/organization?
An employee referral program is built on trust.
Suppose you're incentivizing your employees for referring their friends and family. In that case, you want to make sure they're invested enough in your company that they only recommend people who are a good fit for their culture.
Any candidate referred by a current employee must be at least six months or more. It takes time for someone to judge whether they like a job well enough that they would recommend it to others.
After all, if somebody leaves your organization within months of being hired, you can bet they weren't entirely happy with their experience.
Do they have any performance issues or problems with other employees that I should know about?
A good employee may be having trouble getting along with one or more of their colleagues.
If you know about those issues and plan to resolve them, it will be easier to select candidates who fit your team.
In addition, if they have any performance issues, it's best to find out now so you can resolve them sooner rather than later.
This information could help you select an otherwise great candidate who isn't a good fit for your company culture.
What skills do they possess that would make them successful in this role?
Whenever you're hiring someone, whether an employee, contractor or freelancer, ask them what they can bring to your team.
More than just a resume full of relevant skills and experience, a good worker will tell you how they've solved problems in similar situations and what makes them suitable for your needs.
Employers shouldn't hire qualified employees; we should employ candidates who can clearly show how their experience is a good fit for our company culture and goals.
Are there any other reasons why they would be successful in this role?
While will they like it? It is a critical question, and can they do it? It should be among your top considerations; there are many other things you can learn from their friends and colleagues.
How do they like to work with others? What do they want to get out of a new position? Is there anything else we should know before offering them a job?
Free Employee Referral Form Template
We understand you are busy, and that's why we've made a free employee referral form template on HeyForm. But if you want to build an online form from scratch, sign up with our free online form builder today.